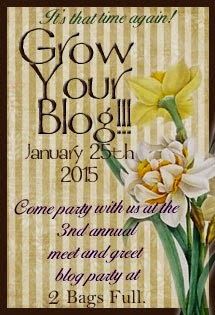 On again I'm joining in on the Grow You Blog party.
The idea of this is get this out to more people and get exposure.
A little info about myself.
My name is Mary Kunna and I live in the Pacific NW (Tacoma, WA.). For years and years I used to do all sort of crafts. Then I found quilting. My main passion now has centered on quilting. I now have a long-arm quilting business, teach quilting at a local quilt shop, vend at quilt shows and design quilt patterns. I also have a passion for collecting vintage machines. Some that I buy go into my own collection and some I go through and service then sell.
Feel free to visit some of my other pages to see some of my vintage machines and a few of the quilts that I have either made or designed.
Something else that I enjoy doing is beading. I have done beaded needlecases and such. I really enjoy working with Delica beads.
One of the things I use this blog for is to also try to keep me in line with finishing some of my own UFO's. Doing quilting for clients keeps me busy, so my own projects tend to take a back seat when it comes to working on them. Not only the quilting for clients, but since I vend at quilt shows I need to work on inventory for shows. Again, this pushes my personal stuff back. Soooooo-I try to keep at list of accomplishments each week to try to keep me on track.
Heres a few pics of shows and misc. that I do.
Hood River
Commission Quilt
Joyful Noise-A Tosty's Design
Portland Expo



Another thing that I will be posting on my blog is a new venture I am undertaking is the restoration of this little beauty:
This is something that I have been wanting for quite some time.
That about covers it for now.
Check out what others are doing at this blog hop
HERE
.
Til later,
Hugs & Stitches
Mary